Welcome to Prestman Auto
Hey there, we're glad you're here!
We love selling cars. From Acura to Volkswagen from Lexus to Honda and everything in between.
We are the original, #1 branded title car dealer in the western United States and have been in business for over 25 years.
We utilize our vast networks of buyers and auctions to make sure we have the car of your dreams at a price you can afford. We scour the country, day after day, in search of the perfect deal. Only vehicles that have passed our rigorous inspection process make it to our lot in Salt Lake City.
We love the relationships we develop with our customers. We love seeing people drive away in a car that makes them happy. We love being the best at what we do, and we love hearing what our customers have to say.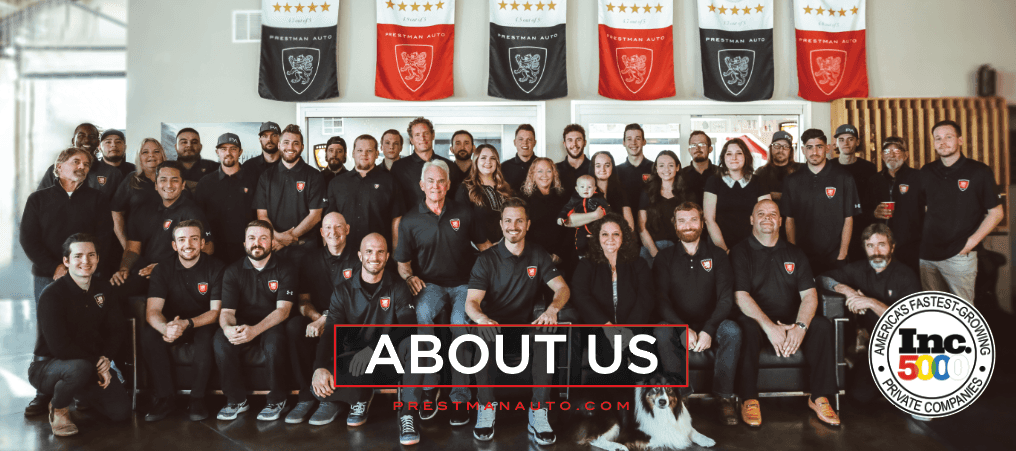 CORE VALUES:
The core values Prestman Auto are those values we hold which form the foundation on which we perform work and conduct ourselves. Core values are not descriptions of the work we do or the strategies we employ to accomplish our mission.  These values underlie our work, how interact with each other, and which strategies we employ to fulfill our mission.  These core values are the basic elements of how we go about our work. They are the practices we use every day in everything we do at Prestman Auto:

MISSION STATEMENT
Prestman Auto sells top quality, branded title vehicles at the lowest prices in the country. We create incredible buying experiences for each of our clients based on honesty, trust and integrity. We strive to inspire and build the self-confidence and success in all of our employees, and to make a positive difference in their lives. In our relentless pursuit to be the best independent dealership in the country, we are constantly disrupting the traditional dealership business model by creating a unique and innovative dealership that truly focuses on the needs of our clients, and improving the lives of our people.

VISION STATEMENT
Our vision is to be the best independent dealership in the country. We will do this by providing exceptional products at incredible prices, paired with an extraordinary buying experience that creates clients for life at Prestman Auto.
Learn more about Prestman Auto's unique company culture: