At Prestman Auto we are the nations leader in selling branded title vehicles. We pioneered this industry beginning in 1989 and have remained the longest standing dealer in Utah that sells branded title vehicles. Clients of ours have found that by purchasing vehicles like this they save

thousands

of dollars off retail book prices

which means they minimize their total loss over time by paying less up front. The undeniable fact about car ownership is that no matter what you buy, it will depreciate over time. So the key is to then purchase at the lowest price possible. 




Let us repeat that statement one more time (because it really is something to consider): THE KEY IS TO PURCHASE AT THE LOWEST PRICE POSSIBLE THUS MINIMIZING YOUR TOTAL LOSS OVER TIME.




WHAT IS A BRANDED TITLE CAR?

A branded title car is a vehicle that was purchased at an insurance auction for various reasons (such as hail damage, theft, damage, etc). Here at Prestman Auto we only deal with a small percentage of these cars that meet our stringent standards.

The vehicles that do arrive at our trusted repair facilities are brought back to factory specifications and standards

. This is the only way we have been able to be the best at what we do and remain the leader in this business for almost 25 years. We only deal with quality makes and models and our professional repair facilities are second to none.




BENEFITS OF BUYING A BRANDED TITLE CAR FROM PRESTMAN AUTO:
Huge savings of $5,000 - $15,000 depending on the type of car you purchase

You can buy a newer car for less money - your dollar goes further!

You lose less money over time as your car depreciates (like every other car out there) because you paid less to begin by purchasing a branded title car instead of retail-priced clean title car

You can finance them at the same rates through Prestman Auto as clean title cars
You can purchase an extended warranty for almost any car on our lot
Know the history of the vehicle you are purchasing through Prestman Auto with our thorough and extensive inspection process that each of our cars goes through
"How can I finance a branded title car?"
Yes, in fact, you can. Prestman Auto has secured several credit unions who will finance these vehicles at the SAME interest rates they do clean title loans for. Thats right, the same rate!
So let us show you some advantages of buying from Prestman Auto:
Y

ou save thousands of dollars at the time of purchase vs. what you would pay at a retail dealer

You can finance our branded title vehicles at the same rates you would finance any clean title car

We work with the leading lending institutions in Utah to get you ROCK BOTTOM rates

We also work with other financial institutions for those who have less than perfect credit
What does this mean for you?
YOU CAN PURCHASE A CAR THAT WOULD OTHERWISE BE THOUSANDS OF DOLLARS OUTSIDE OF YOUR PRICE RANGE!
"Will a branded title vehicle be as safe and reliable as a clean title vehicle?"
When you purchase a vehicle from Prestman Auto you can be assured that the car has gone through our stringent pre-inspection process by two different inspectors. On top of that we also have them inspected by state of Utah to ensure their safety and reliability meets the legal requirements. 
When you purchase a branded title car from an insurance auction or another dealer selling rebuilt cars, you have no way to be sure how the car was repaired, whether or not factor quality parts were used, and who inspected the vehicle after it was repaired (if at all). 
Below is the process our vehicles go through at Prestman Auto before we approve them for sale:
Initial inspection is done by an 

independent

 inspector - once they approve the vehicle repairs and quality we send the car to one of 60+ repair facilities located across the country. 

Then we have each vehicle inspected independently by the state of Utah to pass their rigid safety inspection program to ensure each vehicle is road worthy and approved for registration.
"How do I get a warranty on a branded title car?"
Once again - YES, in fact, you can! Prestman Auto has brought in the National Road Ready company which provides factory-like coverage on almost every vehicle we sell!
So let us recap MORE of the advantages of buying from Prestman Auto:
You save thousands of dollars at the time of purchase vs. what you would pay at a retail dealer
You can finance our rebuilt/restored branded title vehicles at the same rates you would finance any clean title car
You can purchase factory-like coverage starting day one on almost any rebuilt/restored branded title vehicle for up to 60 months/100,000 miles
So there you have it. 
Sound too good to be true?
Look what our
raving clients have said
 about purchasing rebuilt/restored branded title vehicles from Prestman Auto
here.
Take for example the chart below
 - we sold a 2010 Lexus IS 250 Sport with 30,000 miles for our "no dicker sticker price" of $19,775 (screen shot below was taken from our website). At the same time we ran NADA book values for that 
same
 vehicle to compare the average NADA retail price and wholesale price against our selling price of $19,775. 
What did we find? 
There was a savings of over 
$11,000
 that an ecstatic client of ours realized when they purchased from Prestman Auto instead of buying a retail priced car at any of the other dealers. 
To explain the above info we've put together a detailed infographic to show you how the advantage of buying a rebuilt/restored branded title vehicle from Prestman Auto in Salt Lake City, Utah: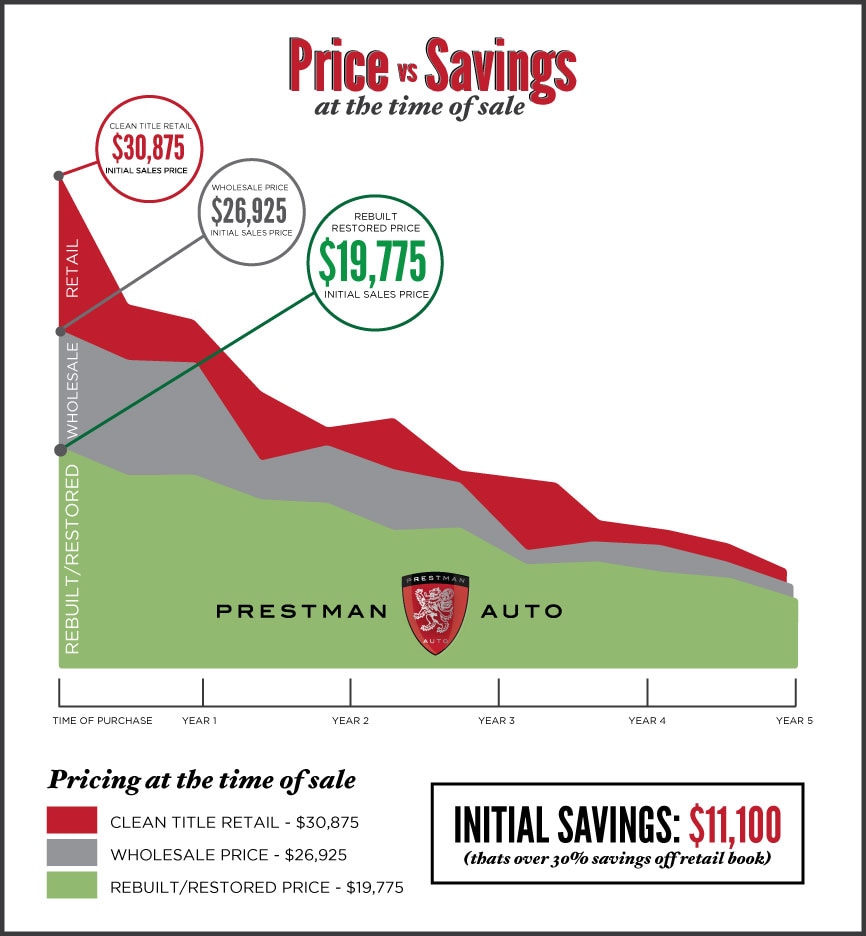 To give you an example of branded title savings, we've outlined one of our cars compared to NADA used car pricing: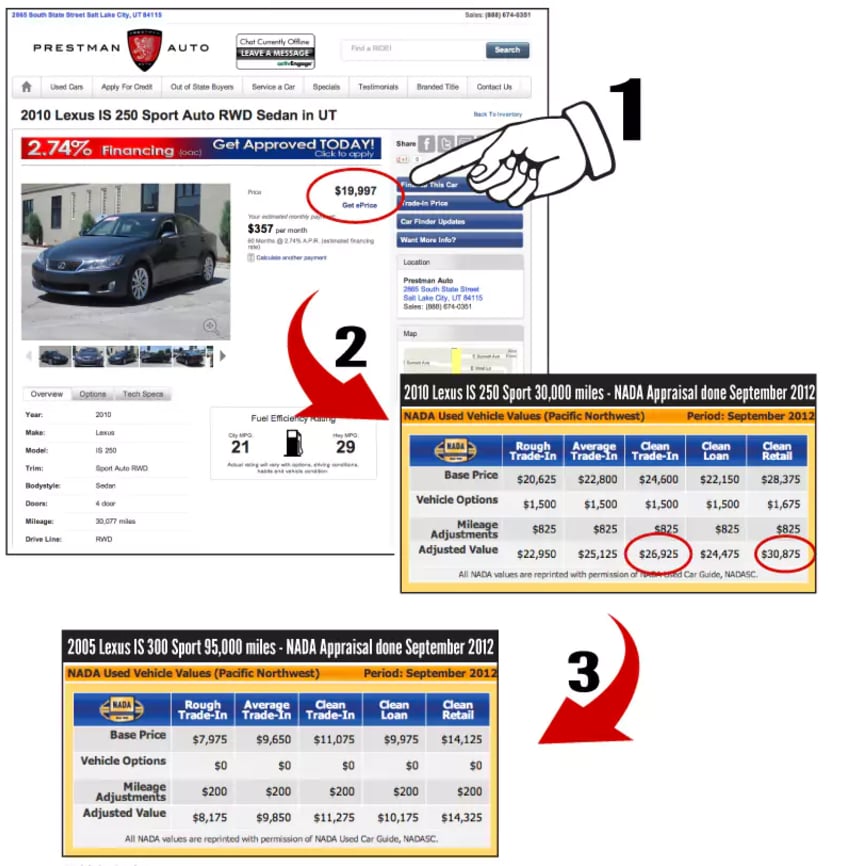 There you have it! Start browsing o
ur pre-owned inventory and find your dream car at a dream price here!