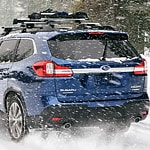 The Subaru Ascent is one of the largest SUVs that the manufacturer offers. It features three rows of comfortable seats while still delivering the handling that you desire from a sedan when you're traveling in Salt Lake City. Even though the vehicle is a bit larger than recent models, it still offers the stylish design that is fun to drive.
All-wheel drive is standard on the vehicle, making it easier to navigate almost any road condition. Several colors of the Ascent are available including white, gray, blue, and red. Arm rests are featured with the middle row of seats along with headrests for the rear seats. While at Prestman Auto, you can explore the numerous ways that you can adjust the seats from the front to the rear.
The leather interior in the SUV is easy to keep clean and provides a luxurious appearance. The navigation screen and gear shift are located in the center of the front of the vehicle at a level that is comfortable for the driver. With a steel body, you can enjoy the quiet atmosphere while inside the vehicle.